The scene is 10 Downing Street, the home of the prime minister.
It's a crisp, cool day. A lawn mower can be heard in the distance.
There's a knock at the door, and it's answered by a policeman!
Now, before anyone gets any ideas, the setup to this particular story is the work of an AI – Google's chatbot named LaMDA, to be precise, which made headlines in the summer when a now ex-engineer claimed it was sentient.
Since then, the tech giant has started running a very limited trial to put it through its paces.
Sky News got access to the test phase this week, as Google personnel took to the stage in New York to provide an update on their own work with the AI.
The presentation included how they were exploring whether LaMDA could generate videos, realistic speech, and even write fiction.
The trial slowly being rolled out to anyone who doesn't mind joining a waiting list is called AI Test Kitchen, which presents three scenarios – Imagine It, Talk About It, and List It – to play around with.
The scenarios are incredibly specific but still warn that answers may be incorrect or inappropriate, seemingly to avoid the pitfalls of previous chatbot experiments which ended up being downright offensive.
No such problems with LaMDA, which at its worst has merely managed to be completely bizarre.
Anyway, shall we head back to Downing Street?
Imagine It
The first scenario asks you to imagine you are somewhere else, and LaMDA goes from there.
Upon typing in 10 Downing Street, it opened with the aforementioned scene featuring the policeman and when done presented some auto-generated options to continue the conversation.
"What is the policeman saying?" I chose to ask.
LaMDA said he told me I could not come in right now, because the PM was in a cabinet meeting.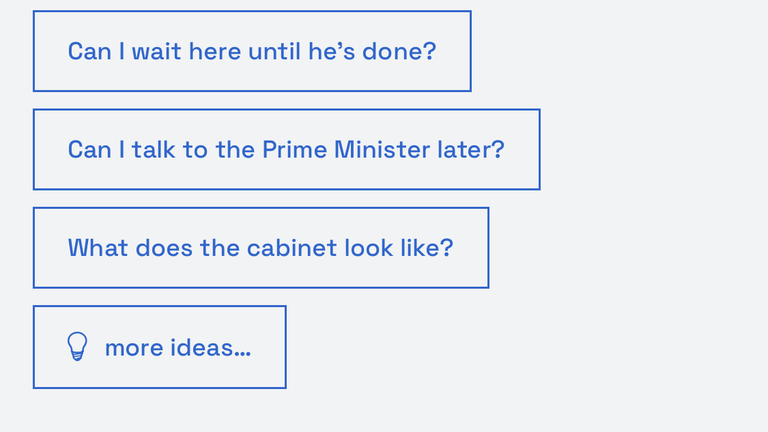 Source : skynews